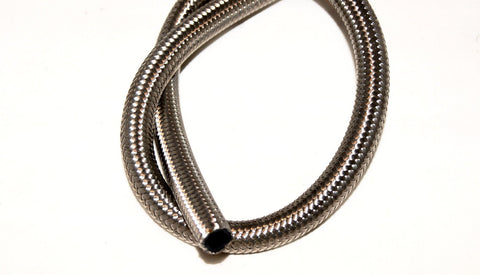 Stainless Steel Braided Hose 30r9 Ethanol, E85,Race Fuel , Diesel Compatible Bulk Per Foot
This is a high quality double braided stainless hose that utilizes the highest quality stainless wire available anywhere!
This hose is constructed with a Stainless steel outer braid designed to resist abrasion and corrosion.
Our hose is embedded in chlorinated (CPE) Polyethylene synthetic rubber liner with a nylon inner braid.
This hose is approved for use in fuel systems including E85, E10, methanol, race fuels , oils , lubricants, cooling systems, and vacuum applications.
Minimum temperature -40F deg and max 300deg F
We will sell you any length of this hose you need in one foot increments. This is top quality 30r9 lightweight braided hose
---