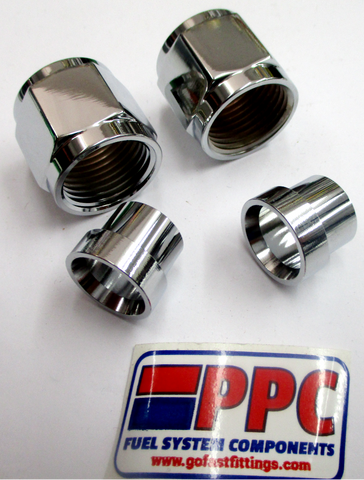 Chrome Plated Aluminum Tube Nuts & Sleeves
We are now stocking mirror finish show chrome plated tube nuts & sleeves. 
These will help put the finishing touches on your project!
 -03 and -04 sizes are sold 6 per pk . 
These are necessary when converting hard tubing over for use with an fittings.
Remember all of our products are sold with a 100% satisfaction guarantee!

 -03 fits 3/16" o.d. tubing  1,2, or 6 per pack
-04 fits 1/4" o.d. tubing     1,2, or 6 per pack
-06 fits 3/8 " o.d. tubing    1,2, or 6 per pack

-08 fits  1/2" o.d. tubing   1,2,or 6 per pack
-10 fits  5/8" o.d.tubing    1,2,or 6 per pack
-12 fits 3/4" o.d. tubing     Special order 
---
We Also Recommend
---