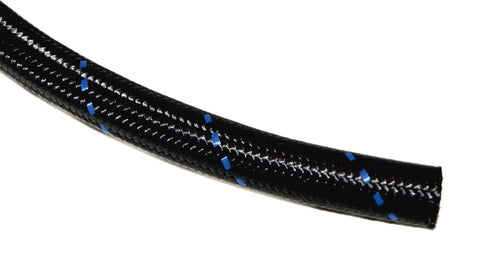 Blue Stripe Black Nylon Braided 30r9 lightweight hose per foot Ethanol /E85 Compatible
This is a high quality lightweight hose that is easier to assemble than traditional steel braided hose.We sell by the foot in on this listing. we also have it in pre-cut sections elsewhere on our site.
This hose is constructed with a black braided nylon outer shield for abrasion resistance with a flexible stainless steel inner core for superior strength embedded in chlorinated (CPE) Polyethylene synthetic rubber liner
This hose is approved for use in fuel systems including E85, E10, methanol, race fuels , oils , lubricants, cooling systems, and vacuum applications.
Minimum temperature -40F deg and max 300deg F
We will sell you any length of this hose you need in one foot increments. This is top quality 30r9 lightweight braided hose.
SPECIFICATIONS :
| | | | | |
| --- | --- | --- | --- | --- |
| SIZE | I.D. | O.D | OPERATING PRESS | BURST PRESS |
| -04 | 7/32" | 7/16" | 500 P.S.I. | 2,000 P.S.I. |
| -06 | 11/32" | 9/16" | 500 P.S.I. | 2,000 P.S.I. |
| -08 | 7/16" | 11/16" | 500 P.S.I. | 2,000 PS.I. |
| -10 | 9/16" | 53/64" | 500 P.S.I. | 2,000 P.S.I. |
| -12 | 11/16" | 31/32" | 350 P.S.I. | 1,400 P.S.I. |
| -16 | 7/8" | 13/64" | 350 P.S.I. | 1,400 P.S.I. |
| -20 | 1-1/8" | 1-13/64" | 350 P.S.I. | 1,400 P.S.I. |
---
We Also Recommend
---